By Cuquis Robledo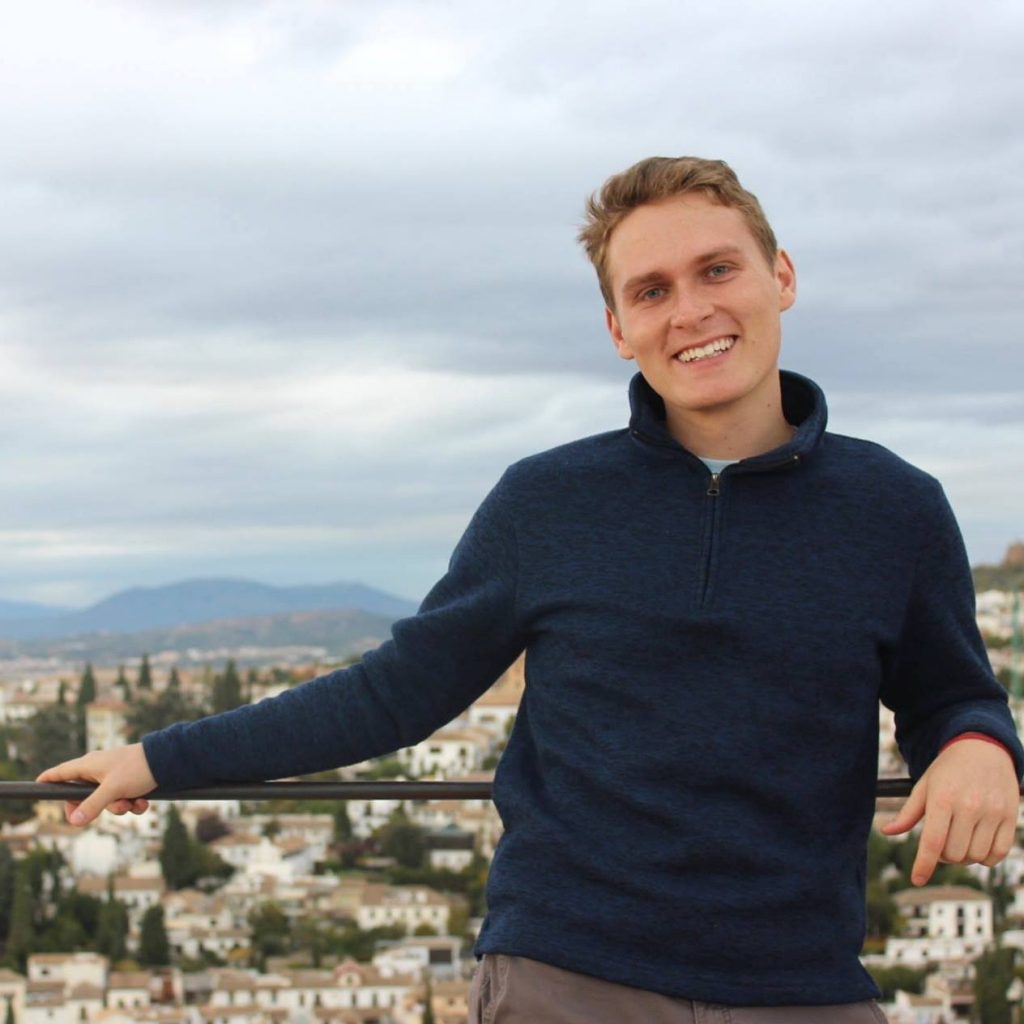 "…One of the things that will never escape me is the concepts around accessibility and inclusivity and the ideas of universal design, which people like Jay Pande and Marion Quirici first exposed me to, is thinking about these things when we are accessible and inclusive to all. That benefits everyone from people with disabilities to non-disabled allies to people experiencing homelessness to everyone in the city."

Kevin Solomon
As the Health Humanities Lab continues celebrating all of the its seniors as they embark on the next chapter of their life, the HHL also has taken the time to check in with these students during the pandemic and asks these students to reflect on their final months at Duke during Covid19. I sat down, or rather Zoomed, with Kevin Solomon, who majored in Political Science, received his Human Rights Certificate through the Duke Human Rights Center, was part of Duke Immerse, has an African/African American Studies minor and was part of the Duke Peoples State of the University.
How did you get involved with the Health Humanities Lab at Duke?
Kevin Solomon is known for his activism both in Human Rights and in Disability Rights. He got involved with the Health Humanities Lab (HHL) through the Duke Disability Alliance (DDA). Kevin joined his freshman year at Duke and heard about it from his friend, Jay Pande, who was the former president at the time. One of his main contributions with HHL and DDA was the work he put into, along with his friend Jay, the development of a Disability Cultural Center.
Kevin and Jay worked together starting in 2018 on the process to develop this center, with Kevin's connection with the Duke Peoples State of the University. The goal was to have a space for the center by the time both Kevin and Jay graduated in 2020. "…That initial demand…became a series of meetings with administrators, with board members with people who work at the disability office at Duke."
Kevin explains how it was a team effort within DDA to help get the momentum going to make the Disability Cultural Center a top priority for Duke Student Affairs. Former DDA president, Deepti Agnihotri, Former Treasurer – or rather Lord Master of Coin – Trent Lau, and current Co-Presidents, Maddie and Simon, were also key members of DDA who helped and worked with Kevin and Jay on getting this center up and going. Surveys were sent out to about 800 students registered in the Student Disability Access Office (SDAO) to get input on how they would want the space to be used, how to make it accessible, and how to make it fit with other student spaces like the Center of Multicultural Affairs.
The Disability Cultural Center was going to be a major steppingstone in increasing visibility of disability on campus. "The space was first and foremost going to mean that disabilities matters," Kevin says, "that they are important and that they should be highlighted and celebrated. It was also really important to how we think about activism and social justice…to think about disability justice not as just fixing issues that come up or putting out fires, right? But also thinking about how we can proactively build community?" He recognizes he is a non-disabled ally so it was important to him that this center would create a "stronger connection between allies and between people with disabilities."
The progress that was made before Covid19 hit campus on the Disability Cultural Center was incredible. DDA had already had a meeting with the new VP of Student Affairs, Mary Pat Mahon, and were already talking about plans on developing a temporary space on the second floor of the Bryan Center before the year was over.
How have you been since Covid19 and how has it affected your work at Duke?
Unfortunately, due to Covid19, the development of the temporary Disability Cultural Center space that was supposed to be finished by the end of the 2020 academic year was put on pause. Kevin, as well as the rest seniors of the DDA community, express their frustration and how upset they are about the postponement. Kevin comments, "Years of my work and now I just don't get to see it, and I won't see until I come back and visit."
Since Covid19 hit the US in March, Kevin has been living in Milwaukee, Wisconsin with his partner and another roommate. He has been adjusting to living in an apartment compared to the vastness of Duke's campus. He admits it had been tough finishing up his classes without a variety of places to spread out to study or to have a change of scene. "I felt a lot of stress working on them [classes] because I didn't have different places or different spaces, which is important to me as like self-care, sort of an emotional freeing space."
However, at DDA's virtual Senior send-off, Kevin happily announced that he and his partner have bought their own place together and he is excited to start a new chapter in a brand-new space.
What's next for you?
The work Kevin has done throughout his Duke undergrad career has been focused on human rights, not just in disability rights but also substance abuse, housing instability, and gentrification. These human rights issues Kevin admits that he has experienced these growing up, even moving in with a host family his senior year and "seeing racial segregation in my own city." He saw a lot of issues related to poverty, racial injustice, and urban design "and how where you live and the place you live shapes the inequalities and your experience in life."
Kevin wants to continue pursing work related to social justice. In the short term, as Kevin explains that finding a job right out of college during Covid19 is difficult, he is looking for opportunities in urban planning and urban issues in Milwaukee. However, he is also looking at fun opportunities like "coaching sports teams and doing dance programs and helping at summer camps. And just like having fun in the world and being around kids and fun youthful energy and just playing more and feeling creative and happy."
His long-term goal is to be working with either local and state political work and policy making. He also foresees continuing his education to prepare him for work in organizing and developing relationships with people who are against injustices.
Kevin reflects on the last four years at Duke and how it has gotten to where he is today, and how everything that he studied connects together. "It's kind of funny now to look back and see all the different ways all of what I have studied all connect to each other. There's, sort of the urban studies, urban planning group, political science. There's the Duke Immerse…that is also a part of the human rights certificate…that also gave me credit for my African/African American Studies Minor…
…and you know one of the things that will never escape me is the concepts around accessibility and inclusivity and the ideas of universal design, which people like Jay Pande and Marion Quirici first exposed me to, is thinking about these things when we are accessible and inclusive to all. That benefits everyone from people with disabilities to non-disabled allies to people experiencing homelessness to everyone in the city."
The Duke Disability Alliance expressed gratitude for Kevin at their virtual senior send-off, saying they will miss his activism, his empathy, his dedication, and his passion for the work he's done with disability activism and advocacy.