Migrant Caravans: "a new social movement that walks for a livable life" – Dialogue
March 27, 2019 @ 12:00 pm

-

1:00 pm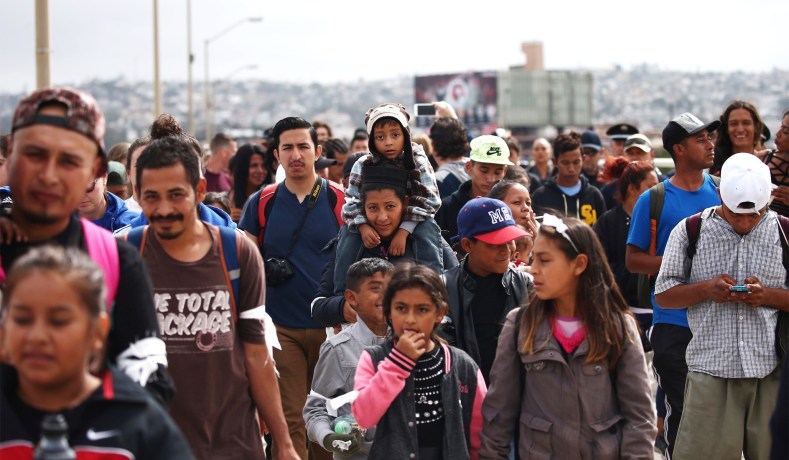 Join the Social Movements Lab for two linked events on the theme of the migrant caravans.
The caravans of Central American migrants moving toward the US border have been tracked by the mainstream media and employed by the US government as prime examples of a state of emergency. In this dialogue with Amarela Varela and Blanca Cordero we will instead explore the phenomenon of caravans, as best as we can, from the perspectives of the migrants themselves and the Mexican activists and communities that offer them aid and hospitality.  We will investigate, specifically, the idea that the caravans constitute, not only a necessary means of protection, but also a new and powerful form of migrant struggle, a new form of social movement.

Event #1: Monday, March 25th – 12pm-1pm – a 'mapping' discussion based on recommended readings (see below).
Event #2: Wednesday, March 27th – 12pm-1pm – a dialogue with Amarela Varela and Blanca Cordero on these themes.
Both events will have a free lunch provided.
Recommended readings for the mapping session:
In English:
"The Rebel Project of the Caravan: Solidarities and Setbacks" – Martha Pskowski
"What is the Left case for open borders?"
In Spanish only:
"No es una caravana de migrantes, sino un nuevo movimiento social que camina por una vida vivible" – Amarela Varela
Amarela Varela teaches sociology at the Universidad Autónoma de la Ciudad de México (UACM) in Mexico City. She works on migration and she has extensive experience as an activist both in Spain (where she earned her PhD) and in Mexico.
Blanca Cordero teaches sociology at the University of Puebla (Mexico) and has published extensively on migration.
Amarela and Blanca (along with Sandro Mezzadra) have co-edited a volume on migration in, across, and from Latin America from the angle of the "autonomy of migration approach," coming out soon from Traficantes de Sueños.
Location:
Social Movements Lab, Franklin Humanities Center, Smith Warehouse, Bay 5, Duke University, 114 S. Buchanan Blvd., Durham, NC
For Parking and Accessibility info, see: https://fhi.duke.edu/contact-us