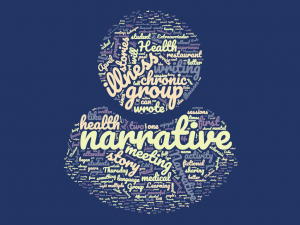 Location: Health Humanities Lab@FHI in Room 0037A, Trent Hall (310 Trent Drive)
We seek participants for a regular meeting time. We are exploring two options: Tuesdays from 5:00-6:30 pm, or Wednesdays from 5:30-7:00. Please email Health Humanities Lab Manager Kat Berko at katherine.berko@duke.edu to indicate your interest in participating, and your schedule availability. We look forward to working with you.
About the Group:
The Health Humanities Lab@FHI is offering a Narrative Health Support Group to Duke students (undergraduates and graduates) who are dealing with chronic health challenges of any kind. By "chronic illness," we mean a health condition–from acne to ADD, endometriosis to depression, diabetes to cancer– that has changed your life and engaged you in a long-term trajectory of management. We hope that through the collaborative use of creative outlets, students will develop personal resources to maximize both education and health.
At meetings, medical student facilitators and guest faculty and residents will present a selection of short texts on chronic illness, such as "My Body is My Temple" by Emiliano Bourgeois-Chacon: "Doctors want to knock my temple beams, cut my muscles they say
Fungus can't grow where there is nothing
Well I need every part of my body even parts I don't know"
Facilitators will promote discussion, serve as sounding boards in dialogue, give creative writing prompts, and provide feedback on students' writing if desired. Creative writing prompts are fluid, but include rubrics such as legacy/memoir writing, transactional writings, and poetic writing. One example: "Write a Letter to your Illness."
Feedback from previous participants:
"Each of the stories were really powerful, and it was both inspiring and created a form of solidarity hearing how others have coped, or failed at times to cope, with chronic illness."
"I was surprised by how much I enjoyed the format of writing for 10 -20 minutes and then immediately sharing what I wrote; this forced me to look past my self-consciousness that my stories are not good enough to be worth sharing."
"The narrative health group reminded me that writing is an art and good art takes practice."
The Lab has the capacity to host students via Skype rather than in person if needed and a meal will be served.